Publication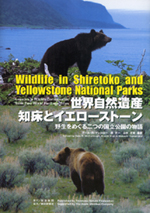 Wildlife in Shiretoko and Yellowstone National Parks
'Wildlife in Shiretoko and Yellowstone National Park' provides latest research outcomes and analysis on wildlife and park management from both of these World Natural Heritage Sites.

Contributors including Dale R. McCullough, Charles C. Schwartz, and many other Japanese and American experts offer penetrating insights on co-habitat with bears, reintroduction of extinct species, and possible solutions for expanding Sika deer population. With full English translation.
Contents
Japanese
English
Gravure
Preface
Noriyuki Ohtaishi
1
204
About the Authors (Japanese and English)
3
3
Explanations of terms (Japanese)
11
Contents
12
203
Chapter 1
Introduction to Yellowstone - Shiretoko National Park Comparison
Dale R. McCullough
13
206
Chapter 2
1.
Science Meets Policy in Yellowstone
20
209
2.
Historical View of Shiretoko National Park
Hajime Nakagawa
33
221
3.
The Northern Yellowstone Elk Herd: Management Actions and Natural Regulation
Peter J. P. Gogan, Thomas O. Lemke, Daniel B. Tyers, Patrick J. White
37
224
4.
The Shiretoko Sika Deer Herd: Management Policy and Natural Regulation
Koichi Kaji, Hideaki Okada, Masao Kohira, Masami Yamanaka
43
229
5.
Grizzly Bear Management in Yellowstone National Park: The Heart of Recovery in the Yellowstone Ecosystem
Charles C. Schwartz, Kerry Gunther
56
232
6.
Controlled Exposure: Demographic Trends, Dispersal Patterns, and Management of Brown Bears in Shiretoko National Park
Masao Kohira, Hideaki Okada, Masami Yamanaka
66
238
7.
Wolf Restoration in Yellowstone National Park
Douglas Smith, Daniel Stahler, Debra Guernsey, Ed Bangs
73
242
8.
Extirpation of Wolves in Hokkaido and Possibility of Wolf Reintroduction in Shiretoko National Park
Akiko Kameyama
87
254
9.
The Mesocarnivores of Yellowstone National Park: Observed and Potential Responses to Wolf Reintroduction
Eric M. Gese
90
256
10.
Current Status of Mesocarnivores in Shiretoko National Park and the Surrounding Area
Takahiro Murakami, Hideharu Tsukada
98
262
11.
Ecosystem Research and Modeling in Protected Areas with Large Mammals: Yellowstone as a case study
Michael B. Coughenour
104
265
12.
Philosophy, Policy, and Conflict at Yellowstone National Park
Michael V. Finley
121
276
13.
Conservation and Management Policy in Shiretoko National Park
Atsuhiro Yoshinaka
129
284
14.
Social and Political Problems Related to Wildlife and Park Management in Shiretoko National Park
Masami Yamanaka
133
286
Chapter 3
Symposium and Excursion
Yuka Kato
153
292
Chapter 4
Wildlife Management in National Parks and Reserves: A Case Study in Shiretoko
159
295
1.
Summary of Comments at Experts Meeting
Yuka Kato, Masami Yamanaka
160
295
2.
Wildlife Management in Shiretoko National Park
Dale R. McCullough
165
300
3.
Future of Shiretoko: a response to the Yellowstone researchers
Masami Yamanaka, Koichi Kaji
175
310
Literature Cited (Japanese and English)
183
183
* Note: Tables and figures are included either in the corresponding Japanese section or in the gravure section.
MAIL ORDER FOR 'Wildlife in Shiretoko and Yellowstone National Park'
Price of book
1,000 yen (Including Japanese consumers' tax)
HOW TO ORDER
We accept your order via e-mail ([javascript protected email address]). Please copy the following order form and paste on your e-mail. (Please fill in the columns with circles also.)
| | |
| --- | --- |
| Quantity | (Please write down the quantity) |
| Cost | **,*** yen |
| Shipping methods | (If you prefer the methods other than EMS, our recommended methods, please write "Contact me with other shipping options") |
| Payment method | Bank transfer/IPMO (Please choose) |
| Address/Postal code | (Please specify the country) |
| Phone number | (Please specify the phone number for the address, including the code for the international call.) |
| Name | (Please write your full name.) |
We will reply via e-mail with cost information (total price of goods plus shipping cost depending on the shipping methods you have chosen) and our bank account information (if you chose not to use IPMO) upon receipt of your order.

* If required information is missing, shipment may be delayed. Please make sure that you fill out all the columns before e-mailing.
SHIPPING & HANDLING
Goods will be shipped after confirming your remittance. For overseas shipment, the shipping charge should be paid by the recipient. Please note that cost of the goods do not include the shipping cost.
About the shipping cost
We ship the items via EMS (Express Mailing Service), our standard method, which is one of the fastest/safest method of shipping. The shipping cost depends on the weight and the destination of the package. For example, if we ship one book to USA, the weight is about 1.0kg with its package, and the shipping fee costs about 2,400 yen. When you have chosen other means of shipping than we have recommended, we do not take any responsibility of any loss during the shipping accidents. However we are pleased to estimate the shipping cost upon your request of; "Contact me with other shipping options"
About the Custom duty
Taxes and applicable custom duty charges, if assessed, are paid by recipient. Sorry for the inconvenience.
PAYMENT
Please check the total amount in the confirmation e-mail from us and make a payment by bank transferor International Postal Money Order (IPMO). Please make a payment in 10 days, and please let us know via e-mail when your payment is done.
International Postal Money Order (IPMO)
We also accept International Postal Money Order (IPMO). Please note that we only accept IPMO which is issued by your local POST OFFICE, not by BANK.
Bank Transfer
We will provide you with our bank account information via e-mail after confirming our stock. Please note that the bank transfer fee should be paid by the customer. The bank transfer fee should be paid for both bank in your country and Japan. The amount of the bank transfer fee for the bank in Japan is 3,000 yen.
NOTE
Please make sure, we only accept normal bank transfer or IPMO. We do not accept any kind of Western Union services, checks, money transfer through the internet, and any other methods. We cannot take responsibility of transmission mistakes.
CANCELLATION
Please refrain from canceling after you receive our confirmation e-mail. We recommend you to consider carefully before you make an order for sure, since basically, we don't accept the cancellation.
RETURN & REPLACEMENT
We take all possible measures to ensure the quality of our products, however, if there is a defective product, please let us know within 3 days after you received the goods. We will accept return or replacement of goods.
E-mail CORRESPONDENCE
We respond to e-mails regarding mail order basically during working hours on weekdays. If you have not received our reply in 3 business days, there may be a transmission error. Please resend your e-mail.